Managed WordPress hosting:
Outside Open provides Managed WordPress Hosting to our Managed Services clients and to many other businesses and educational institutes.
Custom WordPress development:
In addition to WordPress management, our team has created dozens of WordPress web sites and written many plugins – please contact us if you would like a new site, custom WordPress plugins or any other WordPress related tasks.
We offer custom development, plugin development and integration with other web applications or proprietary database / CRM systems.
Managed WordPress hosting includes:
Urgent security updates to themes, plugins and WordPress are deployed within hours of release.
Daily / Weekly / Monthly backups.
WordPress version updates within one day of release.
Daily theme and plugin updates for non urgent updates.
Weekly comment spam deletion: The OO team deletes over 120,000 spam comments per week.
Database optimization, table overhead  and post revisions cleaned weekly.
File level scanning for viruses and other threats.
24x7 monitoring and alerts: If your site goes down, our team is immediately alerted and will respond accordingly.
Free SSL certificates for all domains.
(Optional add-on) CloudFront content delivery network: Media intensive and high-traffic sites configured to distribute assets to visitors from geographically closest data center to greatly improve page load times.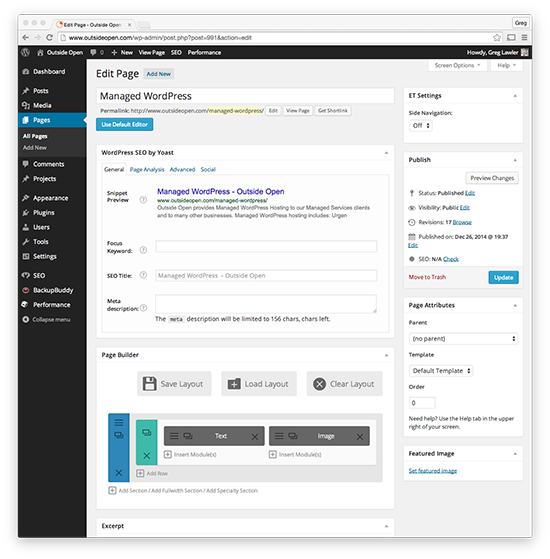 If your WordPress site has been hacked or compromised in some way:
Outside Open offers urgent, rapid response remediation to new clients – contact us now if your WordPress site has been hacked or listed as hacked by Google .
Our team will install the Outside Open management plugin and security suite.
All WordPress files, plugins and uploaded assets will be scanned for compromises, code injections etc.
All malware, compromised files and spam links will be removed or replaced with sanitized files.
All spam comments will be removed.
Once cleaned, your site will be submitted to Google to request a security review and to re-list your site.
Note to existing clients: Managed sites display an Outside Open Managed WordPress plugin – this plugin enables us to securely manage your WordPress installation.  Traffic between your site and our management server is encrypted and cryptographic keys are used for authentication.
Please contact support at (805) 364-4508 if you need immediate assistance with your web site.