[UPDATE] Starting in July 2018, Google Chrome version 48 will start labeling sites still using unencrypted HTTP as "not secure."
Google is constantly making improvements and tweaks to their ranking algorithm (which affects the order of search results) but occasionally, the changes are far more substantial than just a little tweak.  Read on as we focus on two of these major changes:
#1 – Is access to your website encrypted with SSL?
A substantial change to Google's ranking algorithm is their focus on improving security across the web by rewarding SSL encrypted web sites with higher rankings.
SSL is an inexpensive, painless feature to implement. With SSL in place, you will see a little green padlock icon next to the website address in your browser.
For example, see the padlock when you browse to http://google.com. Some organizations take this one step further and opt for an Extended Validation SSL certification (EV Cert) which shows your company name and is often used by banks and other security minded organizations.  We have noticed that as more sites respond to Google's changes, the lead time for an EV Cert is increasing – get started ASAP if you wish to implement and EV Cert. Studies have also show that having an EV Cert has been shown to increase conversions.
All websites hosted and managed by Outside Open will be converted to SSL free of charge as part of your monthly hosting.  Contact us if your site hasn't been upgraded yet and we'll move you up the queue.
Use this fantastic and free utility from Qualys SSL Labs to test your website's SSL security status.
#2 – Is your site Mobile Friendly?
In April 2015, Google announced that webpage search results would now be ranked based on mobile-friendliness. In other words, if your website is not mobile-friendly, your site will now be penalized by Google and rank lower in search results on mobile devices.
Mobile-friendly (responsive) web sites are specifically deigned to work well on hand held devices where the screens are small and navigation is usually done by touch.  Responsive sites will often feature  customized design specifically for handheld devices.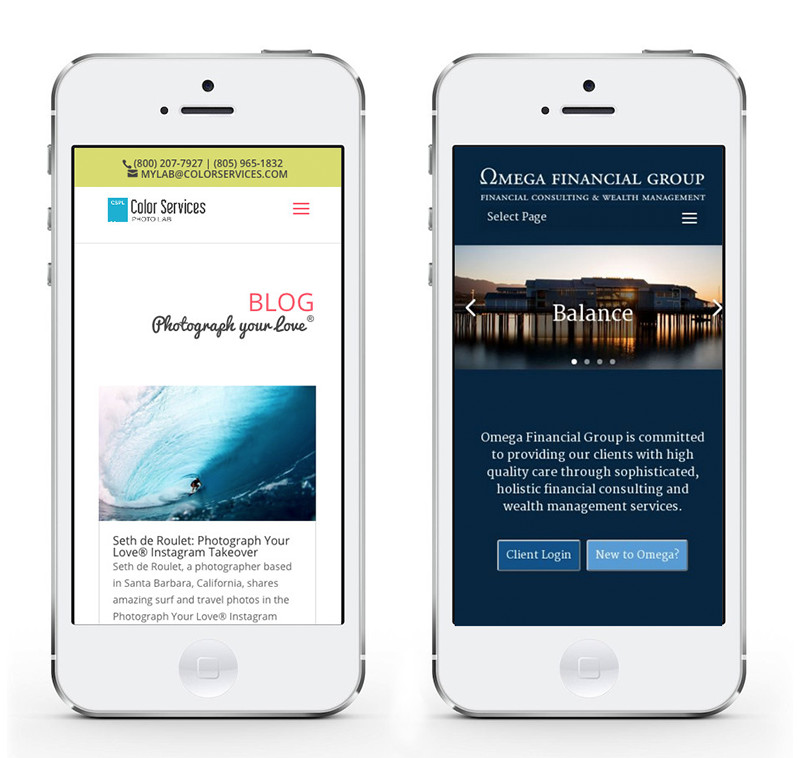 Search engine optimization (SEO) is one of the most important items to consider when it comes to building a successful website. The higher your website ranks in search engine results, the more web traffic is directed to your website. And this is critical because, as reported by comScore, mobile internet usage has now overtaken desktops as the most used web surfing platform.
Test your company's website with Google's Mobile-Friendly Test tool here.
At Outside Open we have been enjoying the process of upgrading client web sites to keep pace with Google's changes and helping maintain and improve SEO rankings.  Call us if you'd like to talk to our in-house designer about preparing your site for today's mobile friendly web or to get an SSL certificate for your domain.  Below are some examples of recently completed web sites which were converted to fully responsive, mobile friendly designs: